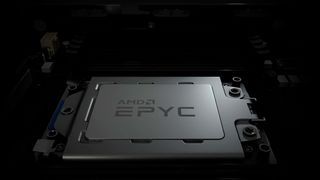 If you're wondering what Zen 3 can offer AMD's EPYC lineup, the EPYC 7543 (codename Milan) processors can likely answer that question. The 32-core Zen 3 chip (via Leakbench) was tested multiple times in Geekbench 4 last month.
Milan's formula will be very similar to Rome in terms of the core specifications. The new core-heavy processors will once again top out at 64 cores and feature TDP (thermal design power) limits within the 120W and 225W range. The biggest and maybe most significant difference maker is the transition over to the Zen 3 microarchitecture in addition to the improved 7nm+ process node. Zen 3 has already been proven to provide very important IPC (instruction per cycle) gains in AMD's Ryzen desktop processors, and we expect to see the same level of treatment for EPYC.
The upgrade path to Milan should be pretty straightforward too. The Zen 3-based chips will continue to live on AMD's Socket SP3 so it'll be backwards compatible with previous motherboards that supported Naples and Rome. This also means that Milan retains native support for DDR4-3200 memory and the PCIe 4.0 interface.