It's hard to imagine having an official gaming browser, yet here we are in 2021 with the Opera GX Gaming Browser making a strong case for one. Of course, gamers can enjoy the basic features of Opera's default browser, but the gaming version has some unique perks you should consider.
WHAT IS THE OPERA GX GAMING BROWSER?
Opera GX is just like your regular internet browser, but packed full with features that cater to gamers. More specifically, it has the aesthetics for gamers that want to personalize their expirience, and it has a style that can easily transition from the games you play to browsing to the internet.
Opera browsers have been around for quite some time, and it's been competing against other internet browsers like Edge, Chrome and Mozilla for years. Many updates and changes throughout the years, have made it a unique choice for people that do not want to use mainstream browsers. Now, sporting a new look with its GX version, gamers can feel more catered to with its excellent design.
INSTALLING OPERA GX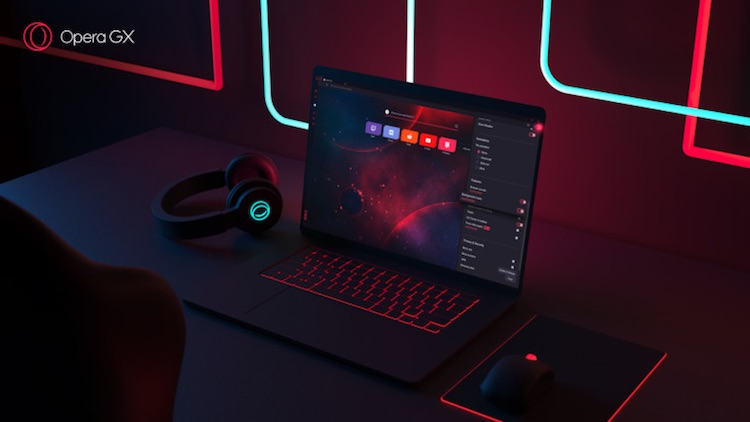 The Opera GX is available in two versions: The Opera GX PC and the Opera GX Mobile. You can download both versions on your devices, and the installation process is quite simple.
To install, all you need to do is hit the install button when opening the regular Opera browser on your mobile phone, and it will install automatically. In addition, some smartphones, especially those that cater to gamers, have an Opera feature where you can download without even the browser open.
For PC users, you can open the Opera browser and install the GX version so you can sport the gaming aspect of the internet browser. It's that simple, and you don't need any licenses or passwords to use the tremendous features it offers.
The installer wont prompt you for any promotions or added software and installs a clean version of the browser onto your device.
GX REVIEW: INTERFACE
Like any browser, you should first judge how the interface works to know whether or not it's worth your time installing the Opera GX in the first place. However, you'll be glad to know that if you love the neon aesthetics and some funky colors attributed to gaming, it has all that and more.
The Opera GX has a selection of color schemes like: cyberpunk, green, red and black combinations that you can play around. Its easy to match your RGB loadout with your browser. Most browsers have some ways to re-skin them, but the option is not as easy or as functional as the one we saw here. Overall Opera did a great job making the look feel minimalistic with an added gamer's touch.
When opening it for the first time, the icons in the browser also have angles to them where they look stylistic. The speed dial tab will showcase five apps right off the bat that are all popular to the gamer like Twitch, Discord, Reddit, YouTube, and Opera's very own Changelog to tweak some features when using the browser. All of these additions can easily be removed and you can freely add or remove widgets and things that cater to your needs specifically.
OPERA GX CUSTOMIZATION ASPECTS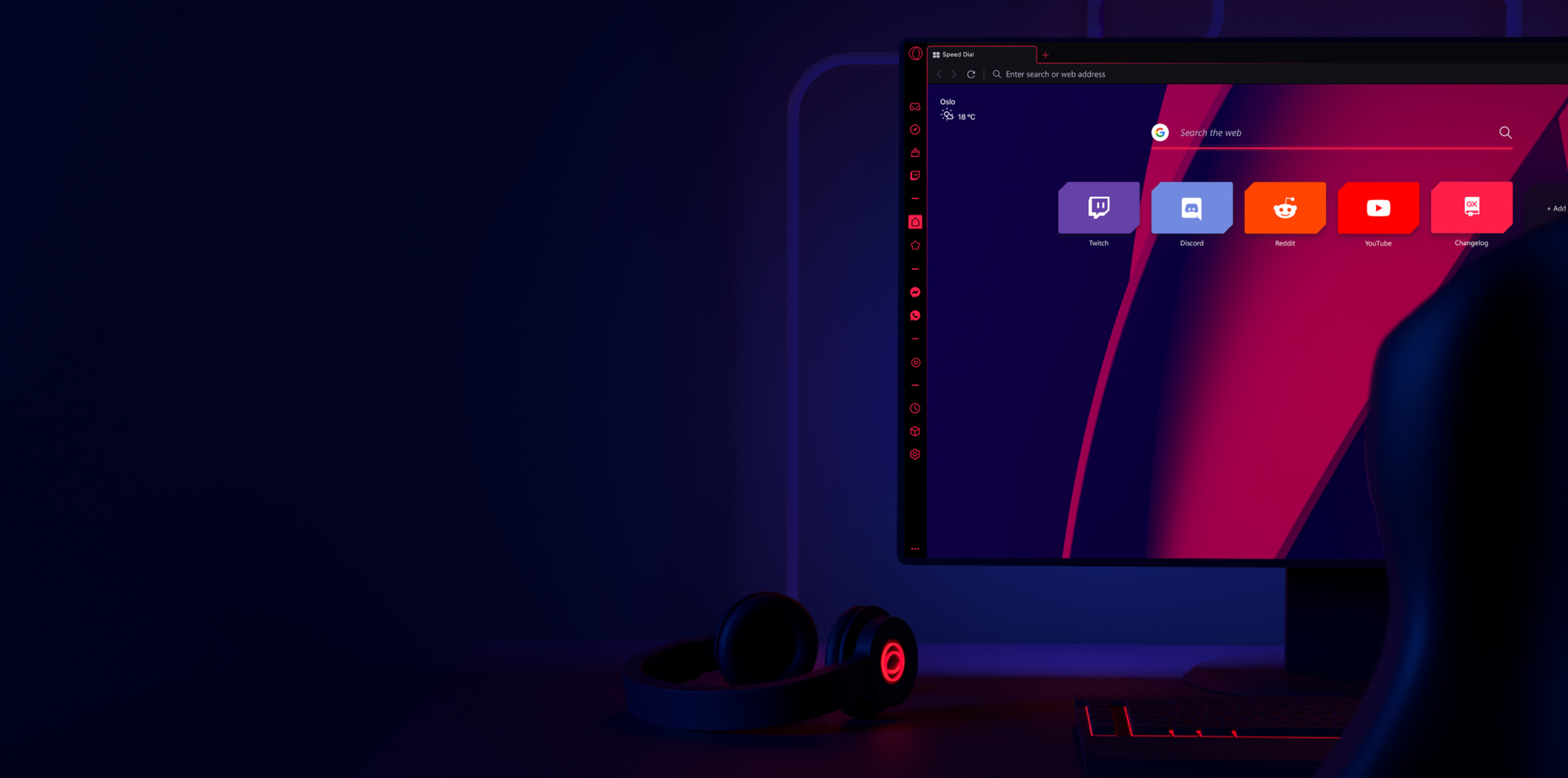 Gamers love to customize their browser, which is why there is a dedicated tab for themes where you can choose either for the GX Classic look, which sports a red and black color scheme, or the Ultraviolet theme where your browser can look like the Cyberpunk game.
While it's still just an internet browser at the end of the day, here are the unique features it has that might want you to install right now:
1. Background music
When opening the browser, you can have the option of adding background music that will make browsing the internet more flashy and immersive if you are a fan of having music playing in the background without opening a secondary app to do so.
2. GX Corner
The GX Corner is a hub for gamers to view the new titles of their favorite games. This section also features free games and great deals to download and purchase Steam games at huge discounts. Furthermore, you can also watch game trailers from different gaming companies and keep up with news from the video game industry. Opera selected various news publishers and outlets to feature in their widget, and constantly serves you the latest news published across the web.
3. GX Control and GX Cleaner
Opera GX also has a central controller to control how much of your PC's RAM or CPU it can use when browsing the internet. You can manage both your CPU and RAM usage when coming to the Control hub of the GX browser. The limiter works exceedingly well to the point where you can break your own browser from the lack of memory and cores power you allow it to use.
While generally lower in RAM demand then competitors, the unique feature of this browser is the lack of over-time RAM hoard present across all other software of this type. Opera seem to have figured out a way to make a browser dump RAM more effectively then any other browser on the web.
You also have the standard cleaner that clears cache and cookies like most others browsers, and a dedicated tab "killer" that lets you release ram specifically without ending your session. This way, you can quickly navigate without having to run third-party software or go to the settings in other browsers to do so. With just a click of a button, you can easily clean your browser in no time.
4. Integrated VPN
Just like the default Opera, GX sports an integrated VPN service since day one. While other browsers are finally adding open VPN options to their software, Opera has been maintaining theirs, and still has one of the safest free-to-use VPNs on the market.
5. Widget Galore
Last yet most important, Opera GX has seamless integration with Discord, Twitch, Facebook Chat, Twitter, Instagram, Whatsapp and more. Most of the services you may be using can be added as an in-built widget on your browser. You will never need to go a different software or navigate to a web-page to run these services. The Discord performs admirably and Opera puts extra effort to make the integrated version use less RAM with a browser running then running the native Discord app or their web version. The same can be said for pretty much any of their widget additions.
CONCLUSION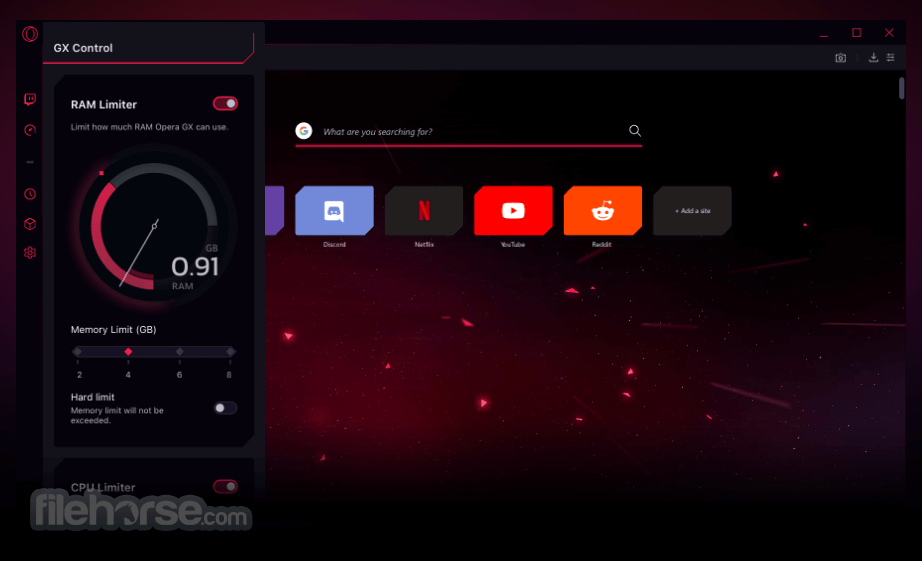 Our Opera GX review discovered an excellent browser for gamers who want a gaming experience that looks and feels great. In addition, it's a great compliment to other gaming apps and software when alt-tabbing to check what's been happening online. The RAM usage and maintenance is better then any other competitor, and I would highly recommend this browser to anyone using 8GB RAM or less.
In terms of customization, you should never look elsewhere as this browser will integrate everything you desire and then some. It's fast, reliable, and has so many features that separate it from the other browsers on the internet. This is a worthy download for many gamers out there!