Samsung Galaxy S22 release date and price
The Samsung Galaxy S22 will start at $799 and come in 128GB and 256GB models. That's the same starting price as its predecessor, which is a good start. I felt the Galaxy S21 hit the sweet spot of offering flagship specs for a reasonable price, and Samsung clearly seems to agree.
However, it does mean the Galaxy S22 has to face off against the $799 iPhone 13. Cupertino's phone has one less rear camera and a 60Hz display, but is nevertheless a fine phone. And the S22 is undercut by the $599 Google Pixel 6, which may have a lesser specs sheet but still offers impressive smartphone photography, plenty of performance and a sublime Android experience.
Galaxy S22 pre-orders start February 9 with the phone going on sale February 25. And as a nice bonus, those who pre-order the Galaxy S22 will get a 25% off any Galaxy Tab S8 tablet. Those are just a handful of the early Galaxy S22 deals you'll find right now.
Samsung Galaxy S22 design
If you've seen the Galaxy S21, you've basically seen the Galaxy S22. Both phones use the same design, with the triple rear camera array using the Contour Cut design that wraps the module around the phone's left edge.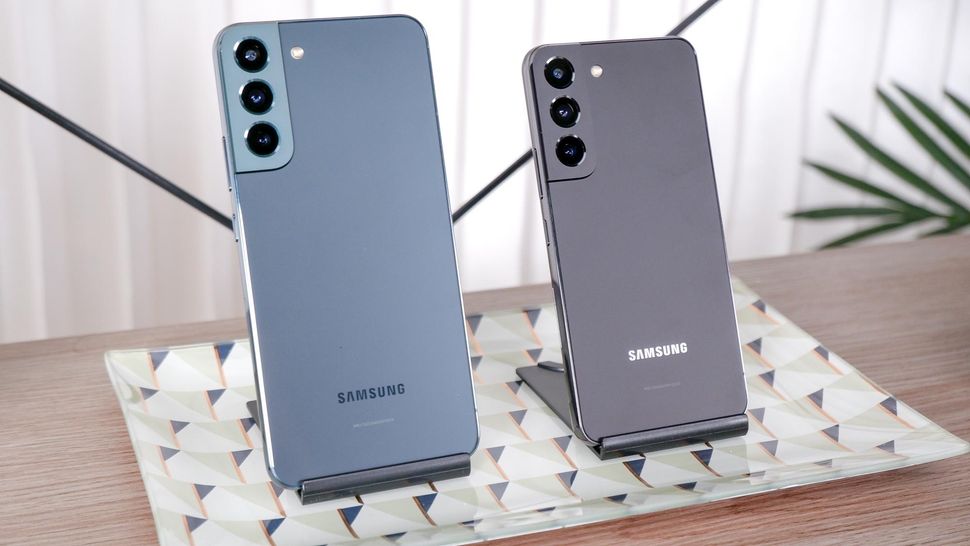 What's different with the Galaxy S22 is the module loses the two-tone look of its predecessor; instead, it features the same color of the phone's rear.The Galaxy S22 comes in Phantom Black, Phantom White, Pink Gold, and green, with the latter's dark shade being the most appealing to me.
I rather miss the two-tone look that was a little more distinct. Equally, the uniformity of single-color design looks neater and less ostentatious than that of the S21.
There are some other minor tweaks, notably the display has dropped from 6.2 inches on the Galaxy S21 to the S22's 6.1-inch panel. And measuring 5.74 x 2.8 x 0.3 inches and weighing 5.9 ounces, the Galaxy S22 is slimmer, lighter and more compact than its predecessor. As a result it's a phone that's easy to use one-handed, at least for me. And it's also a little thinner and lighter than the iPhone 13.