With the best CPU for gaming in your system, that expensive new graphics card you've got your eye on might actually have a chance to work at its full performance potential. Especially now we're entering a new era of affordable 4K gaming. Having the best CPU will also complement any creative work, game development, editing, or streaming you might fancy doing with your PC. And means you won't need a separate machine to handle the streaming on its own. With more cores than ever available, you needn't worry about multi-tasking pushing your gaming PC to the limits anymore with one of these babies.
It's especially worth upgrading if you're using a 4th generation Intel CPU or earlier, or an AMD FX-series CPU or earlier.
There's been a major shift in the CPU space: AMD is king. It has been accumulating kudos for a couple of years now with its Ryzen processors but has always been kept off the top slot by Intel's processing prowess. Not so with Zen 3—AMD now matches and sometimes beats Intel in games. Given the other capabilities AMD brings to the table, it means AMD is simply the better option right now, as long as the price is right. Strangely, Intel manages to hang on to its acclaim by being the better value option in some cases.
There is a slight problem in the CPU market right now: stock levels. Just as Nvidia's graphics cards sold out in seconds, so did AMD's Ryzen 5000 series processors. They're amazing chips, but actually getting your hands on any of them right now is a quest unto itself. That doesn't stop them from being the best chips around, but it does mean that you may need more than a little patience if you are looking to upgrade.
Once you've worked out which CPU you want to build a machine around, the next question is what sort of motherboard you should pick. The new Ryzen 5000 chips still use the AM4 socket and are compatible with X570, B550, and A520 motherboards (with B450 and X470 motherboard support coming later). Intel's latest Comet Lake chips use the new LGA1200 socket, and we'd go with either a Z490 or cheaper B460 motherboard at this point. Thankfully, our picks for the best gaming motherboard are compatible with the CPUs on this list.
—————————————————————————————————————————————————————
The best CPU's for gaming in 2021

1. AMD Ryzen 9 5900X
The best CPU for gaming right now
Cores: 12 | Threads: 24 | Base Clock: 3.7 GHz | Boost Clock: 4.8 GHz | Overclocking: Yes | L3 Cache: 64 MB | TDP: 105 W | PCIe 4.0 lanes: 20
AMD's Zen architecture has improved with each generation, but the fact that AMD managed to knock out a 19 percent IPC improvement with Zen 3 is nothing short of staggering. The key takeaway for us as gamers is that this improvement means that AMD can now stand toe to toe with Intel when it comes to gaming. Honestly, there's so little between these two now that anyone claiming otherwise is delusional.
Whatever resolution your gaming at, this processor can handle it and keep your graphics card of choice fed with lots of juicy frames. The fact that this is a 12-core, 24-thread monster means that it can cope with anything else you throw at it as well. So if you have dreams of 3D rendering, video editing, or any other serious tasks, you'll know that you have the raw grunt to handle it. The fact that it won't hold you back when gaming makes it even sweeter.
The only real downside is the pricing and the dropping of the Wraith cooler—don't forget to factor in when you buy. You do get what you pay for, though, and this is a phenomenal chip for gaming and anything else you might want to do.
If you're in the market for real power, you could step up to the Ryzen 9 5950X, which gives you 16 cores and 32 threads. However, it costs $250 more, and for gaming purposes and even most content creation chores, the 5900X is more than sufficient.
—————————————————————————————————————————————————————
2. AMD Ryzen 5 5600x
The best affordable gaming CPU right now
Cores: 6 | Threads: 12 | Base Clock: 3.7 GHz | Boost Clock: 4.6 GHz | Overclocking: Yes | L3 Cache: 32 MB | TDP: 65 W | PCIe 4.0 lanes: 20
When it comes to gaming, everything that's great about the 5900X rings true for this more affordable Zen 3 chip as well. There's nothing between any of the Ryzen 5000 chips in games, which means you'll hit the same frame rates with this chip as you will our number one pick. Which is incredible when you think about it—top-tier performance from the most affordable Zen 3 CPU? We'll say yes to that every single day.
This does have half the core count of that top chip, rolling in as it does with 6 cores and 12 threads. This is really only an issue with those more serious workloads, though, and for more reasonable stuff, this is more than sufficient. You could argue that gaming could go beyond the 12-threads we have here, but there's no evidence that is the case so far, and that's even though the next-gen consoles are rocking 8-cores and 16-threads.
The Ryzen 5 5600X also bucks the Ryzen 5000 family's trend by shipping with a Wraith Stealth cooler, so you don't have to drop extra money on a third-party chiller. You don't need to, but if you do, you'll hit higher clocks for longer and also open up the wonderful world of overclocking, which could make it worthwhile. This is a decent little overclocker, and while it won't affect gaming much, it'll help in other areas nicely.
—————————————————————————————————————————————————————

3. Intel Core i7 10700K
Intel's best gaming CPU is a great value proposition
Cores: 8 | Threads: 16 | Base clock: 3.8 GHz | Turbo clock: 5.1 GHz (single core) | Overclocking: Yes, 5.1 GHz typical all-core | L3 cache: 16 MB | TDP: 95 W | PCIe 3.0 lanes: 16
The Core i7 10700K wasn't the chip that found its way into the early Comet Lake testing as Intel wanted to focus on the 10-core 10900K and 6-core 10600K, but for our money, it's the best gaming chip from Intel's arsenal. You will get a touch more performance going for the far more expensive Core i9 CPU, but not as much as would have you notice it in-game.
It trades blows with AMD's new Ryzen 7 5800X, another 8-core, the 16-thread processor of the 7nm Zen 3 variety, but represents better value for money. It's not as powerful in serious applications, but in terms of pure gaming, there's really not a lot in it. This is basically $70 cheaper than AMD's similarly capable chip, and that's money that could be better spent elsewhere.
Where Intel does have more of an edge is in the overclocking stakes. AMD processors don't have a lot of overhead in them, while you can easily push the 10700K over 5GHz on all cores and without melting through the heat spreader either.
Conversely, AMD brings PCIe 4.0 support to the party, though it's worth noting that despite Nvidia building it into the Ampere RTX 30-series cards, it doesn't have much impact on gaming performance just yet. What it will do is allow you to use the highest performing PCIe 4.0 SSDs.
—————————————————————————————————————————————————————
4. AMD Ryzen 7 5800X
A great mid-range chip for serious work and gaming
Cores: 8 | Threads: 16 | Base Clock: 3.8 GHz | Boost Clock: 4.7 GHz | Overclocking: Yes | L3 Cache: 32 MB | TDP: 105 W | PCIe 4.0 lanes: 20
In a world where the Intel Core i7 doesn't exist, this would be an incredible chip and would have made it into our top three recommendations, no sweat. It's great for gaming, producing the same figures that can be seen for the 5900X and 5600X. Still, it also appears to hit the sweet spot in configuration terms, with its eight cores and 16 threads surely seeing it right for the future, seeing as that is what the Xbox Series X and Playstation 5 are rocking.
Unfortunately for AMD, Intel does exist, and the blue company's Core i7 10700K matches this in plenty of the more important metrics but has this chip beat in one major way—value for money. This is faster in serious tasks, and if that's what you've got an eye on, then buy this and don't give it a second thought. But if you're mainly looking at gaming, Intel does pretty much the same but costs less. And that's hard for AMD to get away from.
Competition aside, this is still Zen 3 strutting its stuff, and it does that impressively well. Throw in the support for PCIe 4.0 as well, and this is a forward-looking chip that will last you for years.
—————————————————————————————————————————————————————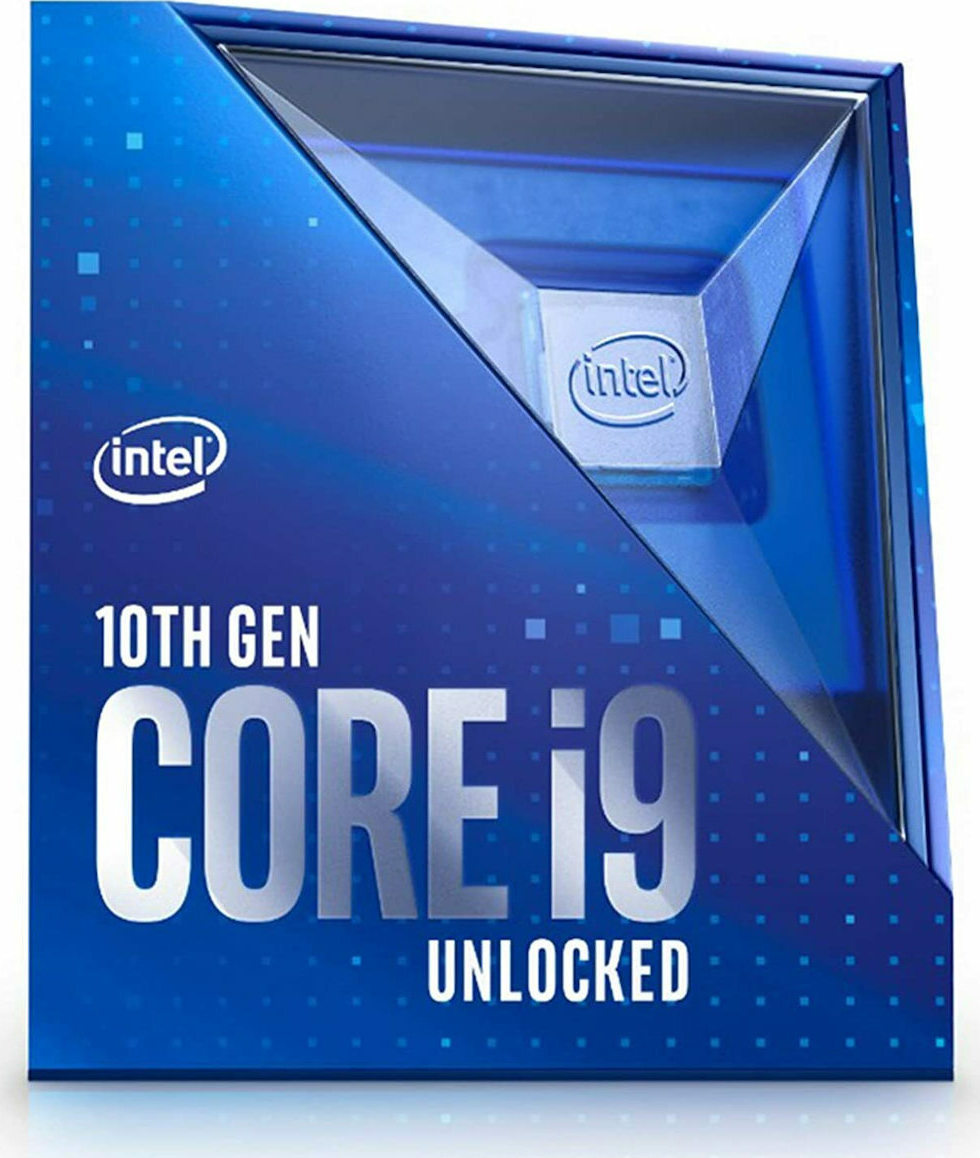 5. Intel Core i9 10900K
The Comet Lake flagship is still a powerful option
Cores: 10 | Threads: 20 | Base Clock: 3.7 GHz | Turbo Clock: 5.3 GHz | Overclocking: Yes, 5.0-5.3 GHz typical | L3 Cache: 20 MB | TDP: 95 W | PCIe 3.0 lanes: 16
Intel's top gaming chip, the Core i9 10900K, lost a lot of what made it special with the release of Zen 3. When the 10900K was unveiled, it came with the reassurance that it was the world's fastest gaming processor, but that's not a claim it can really hold on to anymore, with plenty of games handing wins to AMD's Ryzen 5900X. It's still a cracking game chip, don't get us wrong, but it traded on being the very best, and once that went, it lost a lot of its shine.
It's still overkill for the vast majority of cases, apart from possibly at the very, very high-end, and for serious workloads, AMD chips make more sense, but there's still a bizarre charm to this CPU. You probably don't need it, but if you build a machine around it, you know it won't be this chip that's holding you back.
The Core i9 10900K is the first time Intel has managed to squeeze 10 processing cores into its mainstream line up, and given it's capable of hitting 5.3GHz (however briefly), it definitely represents an impressive outing for the 14nm technology Intel has been tied to for so long. Gaming still benefits from high clock speeds, and this still delivers; it just doesn't make a lot of sense given the competition.
You'll need to invest in a Z490 motherboard to go along with this chip and some serious cooling (a decent PSU wouldn't go amiss either). Don't be fooled by that reasonable 95W TDP, as it'll push way beyond that, especially if you're thinking of exploring its overclocking chops.
—————————————————————————————————————————————————————
This article was created by AposTube