Waiting in line for a Steam Deck and want to know when you can order one? Or are you late to the party and wondering how to get in? We've got you covered.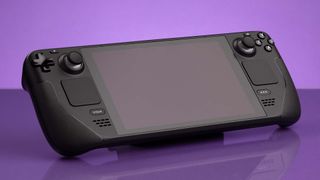 Can you fit a PC in your pocket? Not unless you have exceptionally large pockets, you can't. Valve hopes to change that with the Steam Deck, a handheld PC that should fit inside at least a generously sized jacket pocket. It's set to arrive in February 2022, though it's not quite as straightforward as heading to your local electronics store on launch day to buy one.
As the past few years of PC gaming hardware releases have taught us, nothing is ever that simple. Though, Valve is making an attempt at a more orderly ordering system for the Steam Deck than much of the chaos we've seen the past year. It should result in a smooth, if a little long-winded, release for the handheld console. Hopefully it'll keep customers from frantically hitting refresh, leaving the Steam webpage unbroken.
No more than a few of us had to frantically hit refresh to secure a Steam Deck pre-order when they went live last year, anyways.
Is the Steam Deck on track for release?
Valve should have the Steam Deck ready to go by February, 2022, and believes it's "on track" to hit that deadline. Valve does note, however, "Global pandemic, supply issues, and shipping issues notwithstanding," as we all know these can strike down even the best laid plans.
What happens sometime in February, then, is the first customers to grab a pre-order back in July will be given the opportunity to cash in their $5 (£4) ticket and purchase whichever of the three Steam Deck models they chose when signing up originally.